I recently bought a new piece of furniture for our "entryway" (which might be a generous title for the little space by our front door, but I'll call it that anyway) and am having a really hard time styling it. I think this is the reason why I find myself checking out lots of beautiful entryway examples elsewhere. I've come across a few that I think are just perfect, and wanted to share them with you in case you find them inspiring, too. After all. this space is the first and last your guests see when they come to your home, and can help you stay organized, too.
Here are some of my recent favourites from blogland:
1) The ever so talented Jen of
Made By Girl
has this impeccably styled foyer. I love this!
2) Courtney at
And Then There Was Home
also has an incredible space that you can tell a lot of effort, creativity and talent has gone into. I heart this space. Here are a few snippets of it:
3) And Cristin at the lovely Simplified Bee has a post full of great ideas for entryways, like these ones: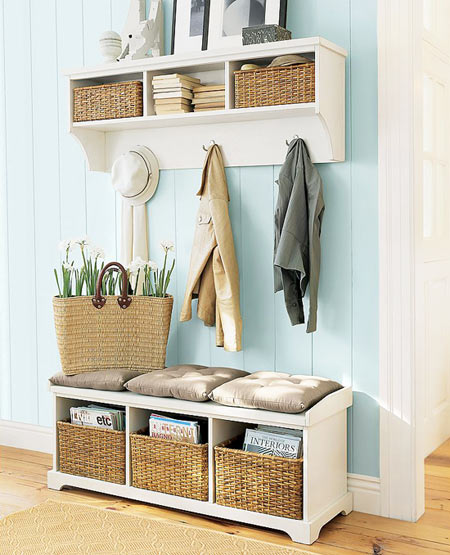 4) This is not a typical "entryway" idea, but we have a little guest bath directly next to (or in?) our teeny entryway. It has the most hideous brass doorknob you'll ever see. When I saw this, I decided I'd find something similar. Still looking for it, and still LOVING this gorgeous doorknob from Bridget at The Rehab Boutique.
I have a lot to do to help set ours up - like clean out our disastrous front hall closet (the doors barely open right now - somehow this became our "junk spot" and we've been stashing things in here and it has gotten nightmarish), rearrange some artwork, and style my new little white rusted metal table/dresser thing that I found recently. Hope I can show you my progress soon!
Have a safe and happy Halloween!
Matt and I are being Mr. and Mrs. Potatohead -- we didn't get any pics at the party last night because I forgot my camera, but we're wearing them to another one tonight and I'll try not to be so forgetful...
xo
PS. Only a little longer to enter to win a set of super cute teapot teaspoons!
Click here for giveaway details
and feel free to tell your friends :)